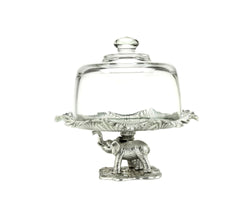 AC-Elephant Footed Plate with Glass Dome
Elephant covered, footed plate is small but mighty attractive. Perfectly sized for 2-3 cupcakes, some special cookies, cheese or any treats for two. A heavy glass dome keeps out the air so treats remain very fresh while on display. This is not a full size cake plate.

An elephant stands  at the base of a palm tree as its leafy crown fans out to support the glass dome. Details abound in the elephant and palm tree figural base of our handmade, aluminum design. Food safe , FDA compliant Arthur Court aluminum never tarnishes.
W: 9.0" / H: 8.0
When out of stock, please allow 7-14 days for shipment to you.  Call to order